with Nicki Scully
Tele/Web/Skype Seminar
We will exploring two different oracular traditions, one each night. Perhaps we will travel to Delphi and learn how the ancient sybils received their information, or travel to the land of Roma to study Tarot or possibly Ayahuasca and the Amazon. Please visit www.becominganoracle.com and explore the Journeys and map.
Thursday, November 21 at 6:00pm-7:30pm Pacific
I have invited Christine Payne-Towler, founder of Tarot University and author of the magnificent new esoteric Tarot of the Holy Light to introduce the principles of Ptolemeic astrology in the context of the Anubis Oracle.
Saturday and Sunday, December 7th and 8th 10am - 6pm in Eugene
with Nicki Scully
Tele/Web/Skype Seminar
Two In-Depth Alchemical Healing Teleclasses in Four Sessions, Plus a Free Alchemical Planetary Healing Call to Action
Part 1: November 4, 7
Part 2: November 11, 14
5:30 to 7:00pm Pacific time (8:30 to 10:00pm Eastern)
with Rev. Indigo Rønlov
Saturday, December 21, 9AM Pacific
You are invited to join this FREE Planetary Healing Call to Action as we meet on Winter Solstice, December 21, 2013 at 9am PST. As the season shifts and the light begins its return, we will journey to source to ignite our illuminated, radiant light so that together we can shine our collective brilliance in a beam of love onto the suffering of the world. Alchemical Healing teacher, Rev. Indigo Rønlov, will lead this month's call from her lodging next to the Great Pyramid on her last night in Cairo, Egypt.
In addition to the Planetary Healing journey, she will share stories and what she has learned during her two weeks of travel in Egypt with her 16-year-old son. Her trip's purpose is to learn how to best offer service to the Egyptian people and land for the upcoming Service and Egyptian Mysteries tour in March 2014, as well as for the completion of her master's degree in ecopsychology at Naropa University. If you are interested in learning more about this service work and how it weaves into the Shamanic Journeys tour at Spring Equinox in March, this will be a great call to participate in.
We look forward to being together with you on this call!
Current Trips to Egypt:
September 19 ~ October 3, 2013
March 17 - 31, 2014
November 1st ~ 15th, 2014
You can register here for any of our Egypt trips, or get more information, along with a general itinerary here.
Get your signed copy…New Book and CD Now Available!
Planetary Healing: Spirit Medicine for Global Transformation by Nicki Scully and Mark Hallert
"The brilliant shamanic journeys in these pages connect the reader with the courage, compassion, and creativity so needed to birth a new world that works for us all."
~ Joan Borysenko, Ph.D.
Visit the new website, read and hear excerpts from the book and CD.
---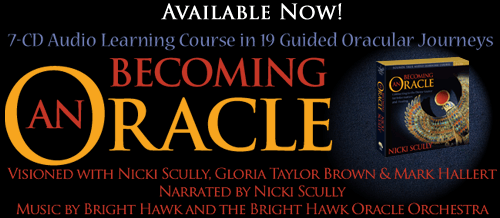 ---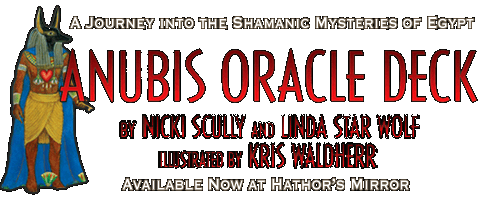 ---
This fresh interpretation of the ancient Egyptian mysteries unites the heart and mind to help us remember our true nature as divine humans with sacred purpose. It guides readers through shamanic portals of death, rebirth, and illumination and gives us powerful tools for transformation. There are rituals, meditations, and rites of passage to help us meet our personal and planetary challenges with more grace, wisdom, and love. This is a book to be experienced as well as read. Please visit our online shop for all of Nicki's books, CD's and DVD's.
Star Wolf and Nicki were recently interviewed on WomensRadio.com. Listen to the interview and read the book review. An excerpt from the first chapter and also the Glossary of the Gods can be found on on our articles page.
---
Please Stop By Our Web Storefront: Hathor's Mirror
Browse our selection of Shamanic Journeys products, books, CDs and more along with a growing array of healing, beautiful and inspiring products offered some of our friends. Not to be missed!
---
Multimedia:
Experience Alchemical Healing in action through our acclaimed Phone Bridge for Healing Cancer available as audio programs on our Podcast Page. Also, Video interviews with Nicki from YouTube, including a powerful Caduceus Empowerment from Nicki's book, Alchemical Healing, A Guide to Spiritual, Physical, and Transformational Medicine. Stay tuned for more Alchemical Healing media as we post a continuing series of empowerments and guided inner journeys for healing and personal transformation.
Nicki has been interviewed on numerous radio shows, and we are in the process of providing access to a complete selection of recorded broadcasts. Check our Radio Interviews page.
---
excerpted from Nicki's book, Alchemical Healing.
The current of intelligence that is flowing onto the planet at this time is informing us in many new ways, and providing diverse tools to help us to adapt and evolve more consciously. New healing forms and techniques abound, and each attracts those who are ready to implement them in their own unique ways. As I reflect on the potent tools that have come through Alchemical Healing over the past decade, the Caduceus Empowerment stands out as the single most comprehensive initiation/meditation/empowerment/practice that I have had the privilege of transmitting to the people who work with me. It opens all the energy circuits and establishes ongoing access to the infinite Universal Life Force Energy. It cleans, clears, and opens all the chakra centers. It opens the eyes in the palms of your hands as well as the third eye. It balances the energies of Earth and Sky, Above and Below, and masculine and feminine. And there's more…
---
Nicki takes you into the spirit world of sacred totems and animal teachings from many cultures. Each of the 50 journeys in this book is exquisitely illustrated by Angela Werneke, the award-winning illustrator of Medicine Cards.
This children's story CD was created as a giveaway to kids facing life-threatening and terminal illness.These CDs are provided free to the children and caregivers of these children, and to centers and hospitals where the children are being cared for. Please let us know where this CD is needed, and it will be sent out right away. All proceeds from the sale of this CD will enable us to produce and give away more free ones. Please see our andyouwillfly.org website for more information about this wonderful project.
"I am sorry about the delay in thanking you for his wonderful CD! Addison LOVES it and it made my heart so full watching his face as he listens to it. He loves to act it out in his room - at night, its his goodnight story. I really appreciate your generosity and loved hearing about your cousin. You have made a family very happy with your donation. Please let me know if you do any more of these story cd's as they are wonderfully creative."

Sincerely,
Sarah and Addison Kleinhans
FB group: Help Addison Kick This Thing